Funky Monkeys expands their jungle kingdom into the Republic of Ireland!

---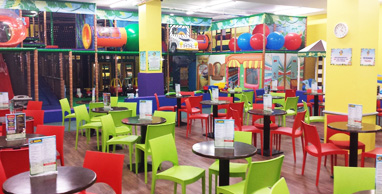 No such thing as monkey business for NI's leading soft play operator as they announce opening of a new centre in Dundrum Shopping Centre.
Northern Ireland's leading indoor play operator, Funky Monkeys Soft Play Café, have swung into action in a move that will see them open there first centre in the Republic of Ireland this June.
Mark Simpson, Director of Funky Monkeys commented "We're extremely excited to be opening our first Soft Play Café store in the Republic of Ireland in Dundrum Town Centre, our first Funky Monkeys centre in ROI. We've established a great brand and reputation within the UK and the move into the Republic of Ireland seemed like a natural progression for the business."
 "We pride ourselves on providing the perfect environment for children to let their imaginations run wild, have adventures, get active, make new friends and simply have fun, while for parents and grandparents, our centres offer a welcome break, providing a chance to relax over a great cup of coffee. We hope that these key values, as well as our newly established links with such a well-known brand as Tesco in the UK, will help to quickly establish the Funky Monkeys name in the rest of the Republic of Ireland."
 Don Nugent, Centre Director of Dundrum Town Centre said 'We're looking forward to working with Funky Monkeys. The soft play centre will give busy families in Dundrum and the surrounding areas the opportunity to combine shopping with some fun for their little monkeys, making our centre an even better destination for customers. '