Funky Monkeys further expands into the Republic of Ireland!

---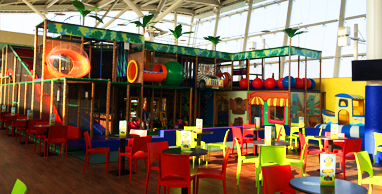 No such thing as monkey business for Funky Monkeys as they announce opening of a new centre in Clarehall Shopping Centre.
Funky Monkeys the leading indoor play operator, have swung into action in a move that will see them open their second centre in the Republic of Ireland.
Mark Simpson, Director of Funky Monkeys commented "We're extremely excited to be opening our second centre in the Republic of Ireland in Clarehall shopping centre. We've established a great brand and reputation within the UK and with the opening of our first centre in the Republic of Ireland 9 months ago, the adding of the Clarehall site to the brand will only enhance and strengthen the brand further especially in Dublin".
"We are looking forward to welcoming many more customers through our doors in our second location in Dublin. Clarehall is a great location and along with Tesco we look forward to a great facility for all to enjoy. We pride ourselves on providing the perfect environment for children to let their imaginations run wild, get active, make new friends and simply have fun, while for parents and grandparents, our centres offer a welcome break, providing a chance to relax over a great cup of coffee."
"We are open seven days a week, 9.30am-6pm, with each 90 minute session costing €6 for children aged 4-8 and €7 for children under 4, with babies under 1 costing €2. We also provide a monthly membership scheme which offers great savings with unlimited access for €17 for the first child, €12 for second child and €9 for every child after that."
Maria Comiskey, Regional Centre Manager of Clarehall Shopping Centre said "We are delighted to have Funky Monkeys open on our second floor. We know that customers will be thrilled with the new addition as its adds a new experience for the family visiting Clarehall."
Funky Monkeys opened in Clarehall shopping centre on the second floor on the 18th March 2015.